It's 1984, March 24th. And you've won yourself Saturday detention at Shermer High School. Don't worry though, you've also found yourself in one of the greatest 80's movies of all time.
The Breakfast Club is one of the most iconic teen movies evert made. And even though it is a teen movie, anyone over that age can enjoy it. I watch it now in my twenties and still relate to it. It was definitely one that I thought of often as I day dreamed in my own high school classes.
The soundtrack for this movie is made up of ten songs. One of them being the famous song Don't You (Forget About Me) by Simple Minds. It's more than likely you've heard this song on the radio, in your own playlist, or another movie. No matter where you hear it, you immediately think of those five students sitting in that library.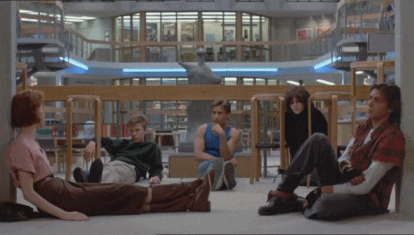 The soundtrack is filled with 80's music that will make you feel all the emotions these characters feel throughout the movie. From their initial pain of being in detention on a Saturday, to their brief exciting escape in the hallways, to their freeing smoke break inside the school, to their emotional final departure (and love) scene. And we of course can't forget about the closet scene between Bender and Claire. To be honest, I'm now thinking of giving my boyfriend one of my diamond earrings, and he doesn't even have his ears pierced. There'a a David Bowie quote at the very beginning of the movie. The quote is from the song "Changes" made in the 70's, but if you like the way this soundtrack sounds just listen to any music Bowie made in the 80's. You won't be disappointed.
So, who now wants to watch The Breakfast Club?